Flight Lesson – 18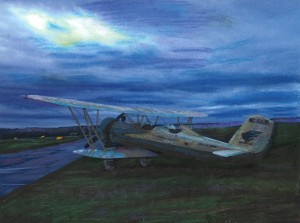 Please don't do that again.
Delayed at Monocracy Junction under the eclipse of the blood moon, we wait. Guests in the General's tent at AOPA, my plane is offered shelter indefinently. Surrendering to winds and weather, a losing battle I choose never to fight. I am at liberty to roam the battlefields of Maryland and Virginia, while a private battle wages inside me.  Silenty.  My pilots' wars are covert.  Forces of fear and impatience clash in the thickets of me.  A victory I choose to win over myself,  I pull out my field kit of crayons and pastels and color the world I want to see.  I fly behind a supply train of expectations to deliver my plane safely.  I rise each morning with the first light of anticipation, and fall each night in the belief tomorrow is the day we will fly.  Like a Fabian Strategy, the whether of weather wages a war of attrition on me.  Held at the station, holding on hope, I call in the cavalry from Calvary for reinforcement.  I repeat my oath. "I never have to be anywhere."
Flying low over the Gracelands we travel in the grace of our benevolent family.  On a trail of tenderness we make our way.  Moving slowly, carefully.  Beautiful exiles in a floating popular sovereignty of We. My plane's needs come first.  His hangar is our shared priority. The route we fly is a map of my heart.  A chart of generosity that has been laid out by cartographers of kindness across the country.  We return, again and again, to people only separated from us by geography. Kicking up dust in the sky, announcing our arrival we rumble up the drive. Wings waving wildly in the wind. Taxing barefoot across the grass, running towards hangars and arms swung wide open, we are wrapped in a warm embrace. Reunions with people we've never met are common place. Treated like family and never charged to stay, instead we are paid.  Enriched in the richest of rewards – loving words.  "It is an honor to have your plane here," is said to me but meant for Buddy's ears. I pin those words inside my pilot's heart and carry them with me like tender dispatches from home. Reminding me where to land when I am vulnerable and alone. Relatives all across the county welcome us with such kindness and care, it is hard to leave. So I leave little bits of me behind.  A crumb trail of possessions.  Like the Lost Dispatch, bundles await in dozens of states. Charting our movements for years and helping us to find our way back to places we've never really left.  A point of diverengence, a great "what if" occurs?  What if my plane had not found me?    I am merely a caretaker, responsible for his safety.
Subscribe
Events
There are no upcoming events.