West Mifflin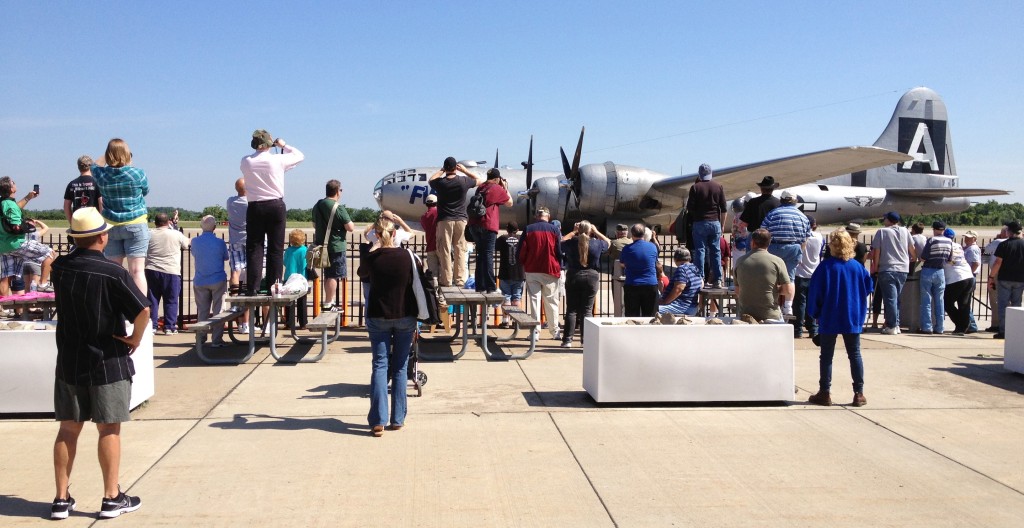 AOPA hat, CAF t-shirt, EAA jacket – they wear the words like human billboards, advertising their connection to the planes and to the pilots around them that they hesitate to speak to.  Standing shoulder to shoulder at the fence, silently watching  FiFi land and holding their breathe, holding in their hearts, keeping their fingers crossed in their heads that she'll be just fine, and not exhaling until she taxis in and shuts down the last engine.  Then the gates open and the lines swell and the questions come at you like a dam burst.
Is this a Waco?
This is from the 1940s, right?
How much did this cost?
Sign say's a lady owns it but it says Dudley Steele next to the seat.  Is that your husband? Is this really yours?
I saw a bi-wing here last year but it was blue and yellow.  Do you know it?
Do you really fly this?
What do you do when it rains?
Years of answering thousands of questions like these has taught me one thing, the people on the ramp or standing at the fence don't really care what your answer is, they're simply asking you to have any excuse to talk with you.  With their airplane shirts and hats, they shyly advertise their emotions in an attempt to show you how much they care.  To let everyone know they look up when they hear an airplane overhead every time too, and that they're one of us.  They want so badly to connect to what we fly they simply can't wait one moment longer to tell their airplane stories, and the courage for them to make that connection usually starts with a question.  The memories you carry with you from airport to airport are not usually the conversations, but the mental snapshots of moments.  The gentle touch, a deep smile of admiration, a man quietly crying as he tries to describe his flight, and the simple, "Thank you for bringing the planes."   These things, mostly unsaid, are why we tour for months with one carry-on sized suitcase, so people can have the real and quiet moments with us and our planes.   By late in the day the deluge of questions and conversations can reduce you to numbness, but you sit and talk and mostly listen, because that's what we're here for.   What I've found is just when you think you can't answer another question or hear another story, you are asked the most important and intelligent question ever…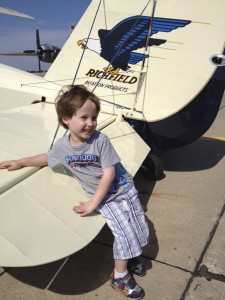 "What's your planes name?"  Ethan yelled over the conversation between the five adults standing next to my wing.
"That's the best question I've heard all day, thank you for asking…his name is Buddy." I replied.
"Can I hug Buddy?"  Ethan smiled and held his arms out wide toward my plane.
I hopped off the gear strut and walked toward Ethan and his Mom, "Of course, Buddy loves hugs, give him a really big one!"  Ethan laid his body on the horizontal and squeezed gently, then picked his head up and told us all, "I hugged Buddy!"
All the questions and the people with their airplane stories were truly and most honestly expressed through a little boy's actions.  Every airplane lover, or pilot, or pilot wannabe on that ramp felt what Ethan did, they just weren't brave enough to say…"Can I hug your plane. I love him."