Flight Lesson – 15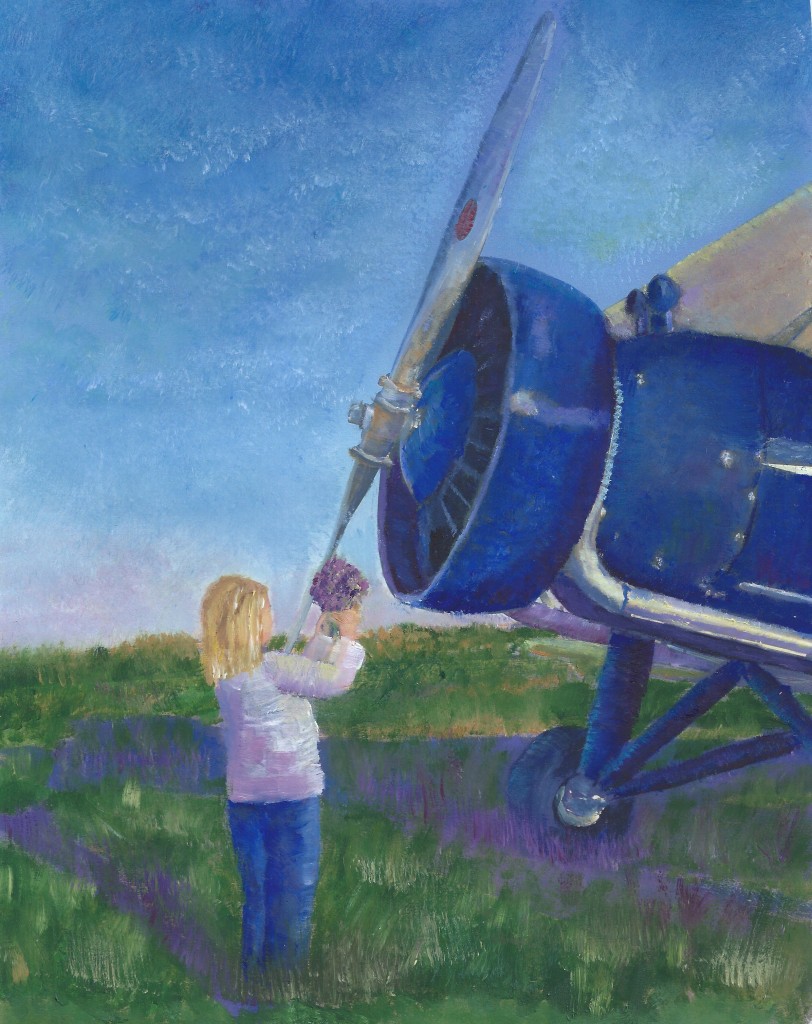 The skies spun all around us as soft and warm as cotton candy on our last flight in Wisconsin. The sweet smell of burnt sugar floated back to me in my memory. The first time I smelled it was in another September, once upon a time ago.  I wrote a piece of make-believe about a small blonde girl I flew who smelled like cotton candy.  I was afraid that I would lose my sense of wonder, and slowly find my silly replaced with seriousness, if I didn't remind myself what it felt like the first time I flew alone for months.  The story I wrote about Mt Pleasant was partially true. The little girl was maybe eight years old, barefoot, and sat on her heels in my PT-17 Stearman. She hung her head over the side, and her scent of sweat and burnt sugar filled my cockpit. She flew fearlessly. That little girl buckled in my front seat was me. The group of men in my story, watching us across the airport fence, never spoke a word.  Only one nodded when I walked over to say, "Hello."  They didn't offer to take me to their favorite diner.  Although I was hungry, and I didn't have any food. They just watched me fueling my plane suspiciously. They couldn't look past the woman to see the pilot in me. It was the end of my first season barnstorming alone and I had grown tired of my first summer of stares. So I made up an alternate reality and chose to write a happy story.  The little girl in my front seat reminded me that flight, "Don't pay any attention to them, play Blue Streak with me." I left her off by the side of the runway as she kissed my plane and me, then ran to safety in the grass.  I promised I'd be back and asked her to wait for me after I sold my sweet Stearman Blu.  The first place Buddy and I stopped was to pick her up.  She was there waiting patiently.  She's flown with us ever since and loves nothing as much as a road trip, taking an impromptu cross country.
It's getting cold here and neither my plane or me, like to fly in the cold. So tomorrow we'll go on an adventure to move Buddy into the Ohio Valley and visit our grass strip extended family. He can wait there for a week while I pack up my courage to go over the mountains.  I am afraid of flying over thick forests and mountain ranges.  I can't protect my plane if we go down there.  The little girl in my front seat is wiser than me.  She reminds me again, "Don't pay any attention to them, play jump rope with me."  She taught me in Mt Pleasant how to make a game out of things that frighten me.  Jumping over the mountains we'll play Double Dutch with the twin flames from the exhaust.  Then we'll race cars along the highway through the pass and look for faces in the mountains, carved like legends, naming the names of Presidents alphabetically.  Leap frogging each other down into the valley, fighting to call out "first see" at the battlefields of Antietam and Harpers Ferry.  Finally landing at Frederick for an AOPA Homecoming.  Where another Sarah is waiting patiently.  A young women who wants to be a pilot like me, named Sarah Deremer.
There will also be a lot of stares waiting for us there, but years ago I stopped being bothered by people watching me.  You see I fly alone for a reason, not because I want to. I love being a passenger and never lack for company.  I fly alone so I can collect stares at the fence for them. I make it a game, handing each one up to the girls in my front seat. Telling them, "Here's another stare you won't have to see."  By the time they become as old as me no one will be surprised to see a women flying alone in her own plane.  No one will reply, "Really?" when you tell them, "Yes, this plane is mine."  The little girl in Mt Pleasant taught me you are what you see.  You can always change your reality. Because when I fly my plane, I'm not a woman, or a girl.  I'm just a pilot, don't you see?
Subscribe
Events
There are no upcoming events.