Oshkosh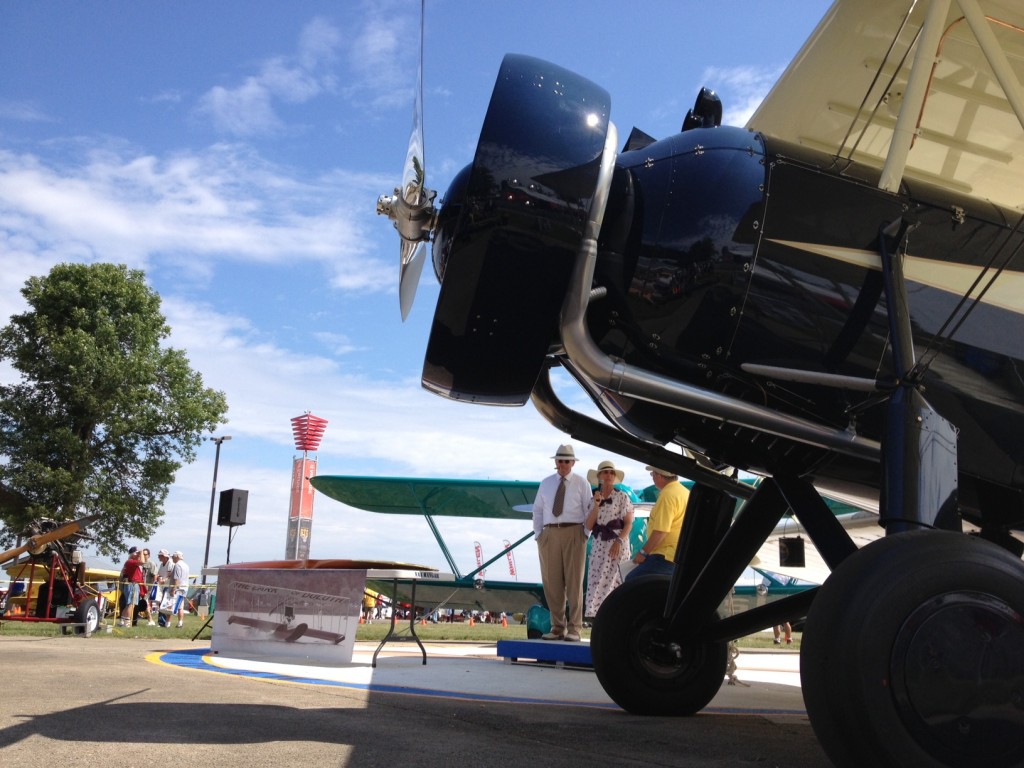 "The Judges are here," I texted Kevin.  Yuck.  What was a really fun afternoon in the vintage showcase, had just become a really un-fun afternoon.  I hate being judged, and I hated the idea of subjecting my plane to it as well.  Before Sun n Fun in April, I told Kevin Kimball I wasn't going to have my plane judged, because Kimball's and I had evaluated every decision we made while building him for five years.  He was exactly as we wanted,  so honestly I didn't care what anyone else thought.  I think my plane is perfect.  Kevin ask me to reconsider, reminding me that Kimball Enterprises is his family's business, and that they deserve to have their work evaluated.  So I agreed to have the Speedmail judged, on the condition that I would register him, but at the moment the Judges showed up, Kevin would have to talk with them.  So when the Speedmail won at Sun n Fun, I went up and accepted the plaque, thanked everyone there, and handed it to Kimball's,  it was their award.
At Oshkosh on Monday, I stood in line to go through the process all over again.  The thought of having Buddy judged twice was painful, but I had promised.  I walked back to my plane with the registration sleeve, crossed out the word "don't," so that it read, "Please touch," and then wrote the word "gently" next to it with a :-), and hung it on my prop.  Done.  Tuesday afternoon the Judges arrived wearing titles on their hats, and seriousness on their faces, circling Buddy with clipboards to record their judgements.  I walked up and spoke to one Judge, who was looking into the front cockpit, and said he was welcome to climb in if he wanted to, to get a better look.   He said no, he was fine, then in a very friendly voice he asked, "Where's your book?"  I said it was on the wing and handed it to him.  He explained that my artistically done, but factually lacking book,  basically wasn't even close to being good enough.  The whole process went downhill from there.  They spent about twenty minutes with my plane, Kevin and me, and then left.  Watching them drive away in their golf carts, I got the distinct feeling that they weren't all that impressed with any of us.
So the process was humiliating and frustrating, and I started to cry.  I was mad at myself for not doing exactly what I wanted to do in the first place.  I was mad at Kevin for telling me that my book was fine, when it was clearly not enough for the Judges at Oshkosh.  Now I was crying on the ramp and I was mad at my tears, thinking if I didn't care what anyone thought, why was I crying?  Everyone here thought the Speedmail was stunning, I knew he was stunning.   So why was I worried about what a handful of men in Judges hats liked, or didn't like?  What's up with the tears baby girl? I asked myself.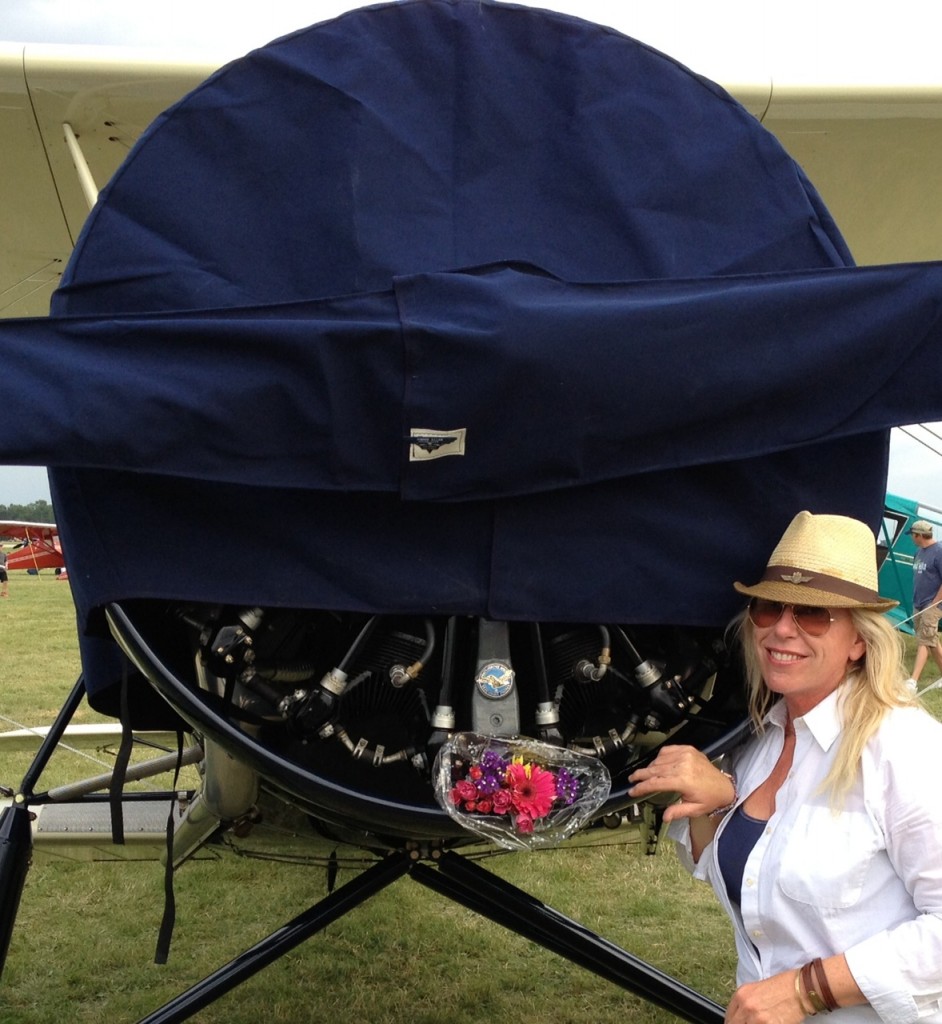 My go to solution  – run, drive, fly, anywhere away from sadness.   I knew if I took a drive, I would remember that I really didn't care in the first place, and figure out why this was hurting my feelings so much.   Driving with the windows down and the  music cranked, I finally figured out why, it was shame.  Shame is something none of us are born with.  We only learn it from people telling us we're not good enough, or worse, when we tell ourselves we're not good enough.  My first memory of shame came along with a pink tutu in ballet class.  I loved ballerinas, and I loved dancing, and I loved pink…I still do.  So I remembered the recital, I think I was six or seven, when I came in and the teacher took me to the side and told me to tell my mother, that my tutu wasn't starched enough, and not acceptable.  She said while she would let me dance today, I wouldn't be able to participate in the future if my tutu didn't stand straight out, like all the other girls.  That morning, I had thought my tutu was perfect, and I thought I looked like a perfect ballerina in it, until she told me that I wasn't good enough.  I used to think shame was impossible to lose, now I know it's really more like static cling, it's just really hard to get rid of.  But I've learned you can get rid of it,  so now I live my life making sure that I will never wear anyone else's shame.  Figuring my tears out, I also figured out a perfect present.   I drove into the Pick n Save,  and bought a beautiful bouquet and brought it back to put in Buddy's cowling.  I gave him a big hug, and told him how beautiful he was, and that I was really proud of him!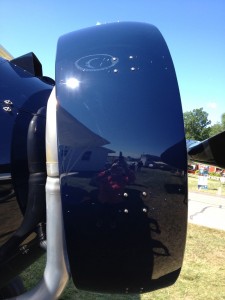 That night I looked out on the flight line that stretched all the way from the Red Barn down to the south, I saw so much beauty in each of those planes.   I hated the thought that anyone would find fault with them, bring shame on them.  So I figured out that my tears weren't about me, they were about Buddy.  It was the first time that he would be told he wasn't perfect and I wanted to protect him from that.   But you see, his imperfections are what make him so perfect.  It's the tour grime on his belly, the chips in his paint, and the fingerprints from people touching and petting him, that makes him so beautiful.  Just like all of us.  So this weekend, the men in the Judges hats, will make their judgements of who is the best on this field at Oshkosh.  I hope you all get up Saturday morning and tell your planes how perfect and beautiful they are, and put flowers in their cowlings.   And while you're at it, tell yourselves that we're all beautiful, and exactly as we should be.  Be shameless with me and Buddy in believing we are perfectly, imperfect.  And that we are all Grand  Champions.